1. Analyze the work of a contemporary artist that you believe best represents current trends in art.
The artist that I have chosen is Lucy Dodd. She creatively uses nontraditional materials in her paintings, which are all at once, out of control yet perfectly composed. Critic Jerry Saltz stated: "Dodd's work widens the senses, makes the cosmic thickening visible, and uncrumples something fundamental."
I very much agree with this statement. The use of colour and line create interesting depth. It seems as though you could continue viewing the painting and find new things about it, as though it has a story.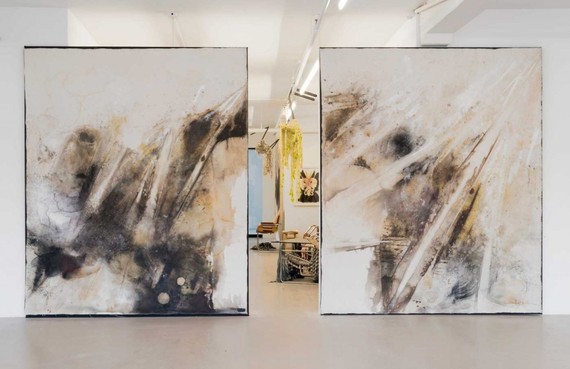 Lucy Dodd. Courtesy of David Lewis Gallery, New York.
2. Explain the benefits and drawbacks of contemporary art.
Contemporary art is very free and open to creativity. It's about creating something that means something to you. The artist is the one who knows what the artwork means and what the message is. I love the idea of freedom and expression rather than tradition and one ideal look.
Benefits:
abstraction is used

artists are free to trust their inner visions

characterized by a large number of different movements occurring at the same time

resembles something in life

can be just about anything the artist wants
Drawbacks:
there are no rules

Complicated/Difficult to explain

No traditions

hard to find the meaning

Unrealistic